You know those messages that are shown for only a few seconds after every episode of TBBT, 2½ Men and M&M…? Those are Chuck Lorre's vanity cards. They often amuse me (but sometimes they bore me to death). You can read all of them on his website, Chuck Lorre.com.
Here are some excerpts:
#187: Awright, shut up, siddown and listen. I am da immortal spirit Sheldon Leonard and for da last few years I've been using da body of Chuck Lorre to channel my ideas for new sitcoms. For da record, he's a stinkin' lousy channel and my ideas are much better than what he's puttin' on television. Dis is why I am breaking my anonymity. No matter how specifical I tell da kid what to write, he still manages to cock it up. (…) Anyway, I decide to give the mook one last chance. While he's under da gas at the dentist, I tell him to do a show about four wise guys and a sexy dame what knows da score. So what does da knucklehead do? Scientists and a waitress! It just breaks my heart. But at least the dope managed to slip my name in dis one. Now if you'll excuse me, I gotta schlep over to Milton Berle's crypt for a little pinochle with the boys.
#198: In tonight's episode we explored the subject of lying to avoid hurting someone's feelings. During the climactic final scene, the character of "Cousin Leo" blamed his fabricated drug addiction on having been molested in the Philippines by an equally fabricated Naval officer named Chaplain Horrigan. In the original shooting script the make-believe molester was called Father Horrigan. CBS strongly objected to this. Their concern was that Catholic viewers would be offended. (…) I (…) changed the word "father" to "chaplain." CBS's problem went away. Apparently, a non-denominational, drunken pedophile is inoffensive. But more importantly, our Catholic viewers did not get their feelings hurt.
#202: Tonight's story about Sheldon's ego being crushed following his encounter with a young prodigy has its roots in my own life.
#237: There's a funny moment in tonight's episode where Sheldon gets stuck on a rock-climbing wall and remarks, "What part of an inverse tangent function approaching an asymptote don't you understand?" I thought it'd be helpful to take a moment and examine that joke. (…) The more you know, the funnier it gets.
#247: The quantum physics joke Penny tells the guys in tonight's episode was told to us by Nobel award-winning physicist, Dr. George Smoot. Penny tells it in about twenty seconds. Dr. Smoot's version probably took about three minutes, although it felt a lot longer. No one had the heart to tell him to get to the punch line, proving my hypothesis that in addition to time slowing down as you accelerate, it also grinds to a halt when you're being courteous to a genius. Thanks for the joke, Doc!
#277: Belarus is a small, land-locked country next door to Russia, Ukraine, Latvia, Lithuania and Poland. (…) Belarus does have a bustling TV production industry. One of their most recent hits is a sitcom about four nerdy scientists who live next door to a beautiful blonde waitress. The characters are named Sheldon, Leo, Hovard, Raj and Natasha, and the show is entitled, The Theorists. Each episode begins with a rapid-fire montage of images which takes us from the dawn of time to the present moment. Keeping with that theme, the montage is scored with what is probably the worst piece of recorded pop music since the dawn of time. And finally, each episode appears to be a Russian translation of a Big Bang Theory episode. (…) I'm hoping that this vanity card will be read by the fine folks making The Theorists, and, wracked with guilt, they break down and send us some felt hats.
#282: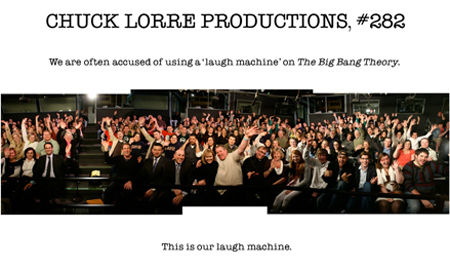 My favorite:
#309: Following Kaley Cuoco's horseback riding injury, I've instituted new rules governing acceptable leisure activities for the cast of The Big Bang Theory. 

1. No friggin' horses. This includes those found on merry-go-rounds and in front of supermarkets. 

2. The only motorcycle you can get on is the one you're accidentally crushing in your big-ass, air-bagged SUV. 

3. All cast member motor vehicles must adhere to U.S. Army guidelines for attacking Kandahar. (Galecki's Tesla is a terrifically fuel efficient vehicle but is essentially a hundred thousand dollar go-cart. From now on it is only to be used for backing down his driveway and retrieving mail.) 

4. The only permissible boating activity at Comic-Con is in your hotel room bathtub. 

5. Alcohol should only be ingested at home, and while seated in a big comfy chair. Wild and carefree dancing that celebrates your incredible and well-deserved success is only allowed on New Year's Eve, and only with a sober celebrity parasitic flunky to lean on. 

6. And finally, sexual acts must be performed while horizontal. Certain high-risk Kama Sutra positions might be allowed, but only after consultation with Chuck Lorre. Like with dancing, a spotter might be required.